News
GREEN ENERGY AT THE BARCELONA BASE: LUNA ROSSA PRADA PIRELLI TEAMS-UP WITH I-PERGOLA
The partnership with the Italian start-up will enable the team to upgrade the base with state-of-the-art photovoltaic panels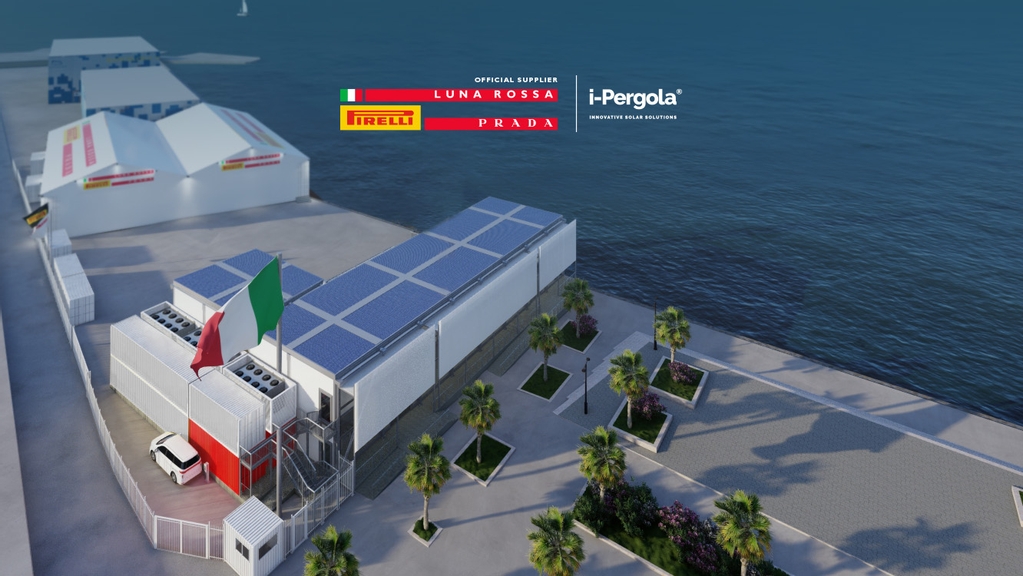 Attention to the environment, renewable energies, eco-sustainable solutions: these are the key principles that led Luna Rossa Prada Pirelli to approach i-Pergola for the energy efficiency of its base in Barcelona (Spain), where the 37th America's Cup will be held between September and October 2024.
i-Pergola is a young and innovative Italian startup (benefit company) founded in 2022 by six partners - who have channelled their respective professional experiences, gained in different fields, into the photovoltaic sector - to bring 4.0 innovation (materials, IoT, AI) to solar systems in the Industrial, e-mobility and Agritech sectors, through 3 production lines: agrivoltaic, floating photovoltaic and rooftop photovoltaic.
The Rooftop PV Tech installed on the Barcelona base uses high-efficiency photovoltaic panels (produced by a leading company in the sector) with latest-generation inverters which are designed, assembled and customised by i-Pergola to meet environmental requirements, construction specifications and the team's needs. The company also designed and developed the IEMMS (Intelligent Energy & Mantainance Management System) software to manage and monitor the system, in order to maintain maximum efficiency and offer a 'custom-made' end product.
With a surface area of 530 square metres, a power output of 97 kWp and the ability to continue to power the base even in the event of partial blackout (in the event of dust or dirt), the i-Pergola panels will make a major contribution in terms of renewable energy. At the end of the America's Cup they will be dismantled and reused for other purposes, in accordance with the recycling principle.
«We are happy and proud to be official suppliers of Luna Rossa Prada Pirelli in its challenge for the 37th America's Cup», says Andrea D'Amico, co-founder and Product Marketing & Innovation Manager of i-Pergola. «Not only are we all passionate sailors, but we also share with the team its ecological policy and desire to impact as little as possible on the surrounding environment. For the Barcelona base, we studied an ad hoc solution that would meet its technical requirements and at the same time be 100% sustainable and fit perfectly into the landscape from an aesthetic point of view. This partnership is also an important opportunity to increase our visibility at an international level, in view of our imminent entry into the Spanish and Portuguese markets».
Giulio Giovanella, logistics manager of Luna Rossa Prada Pirelli, confirms how i-Pergola's photovoltaic panels are the ideal solution to innovate the team's base in Spain in a modern, efficient and with zero environmental impact: «We are very happy with this partnership because i-Pergola is a young and energy-conscious company that shares our values of sustainability. Its solar panels, which incorporate cutting-edge technologies and materials, will produce 'clean' energy to power the Barcelona base and will also have a very low aesthetic impact, thanks to the R&D work that has also focused on shapes and dimensions».