News
FUJITSU TO HELP AMERICA'S CUP CHALLENGER LUNA ROSSA TO DESIGN AND BUILD CUTTING EDGE YACHT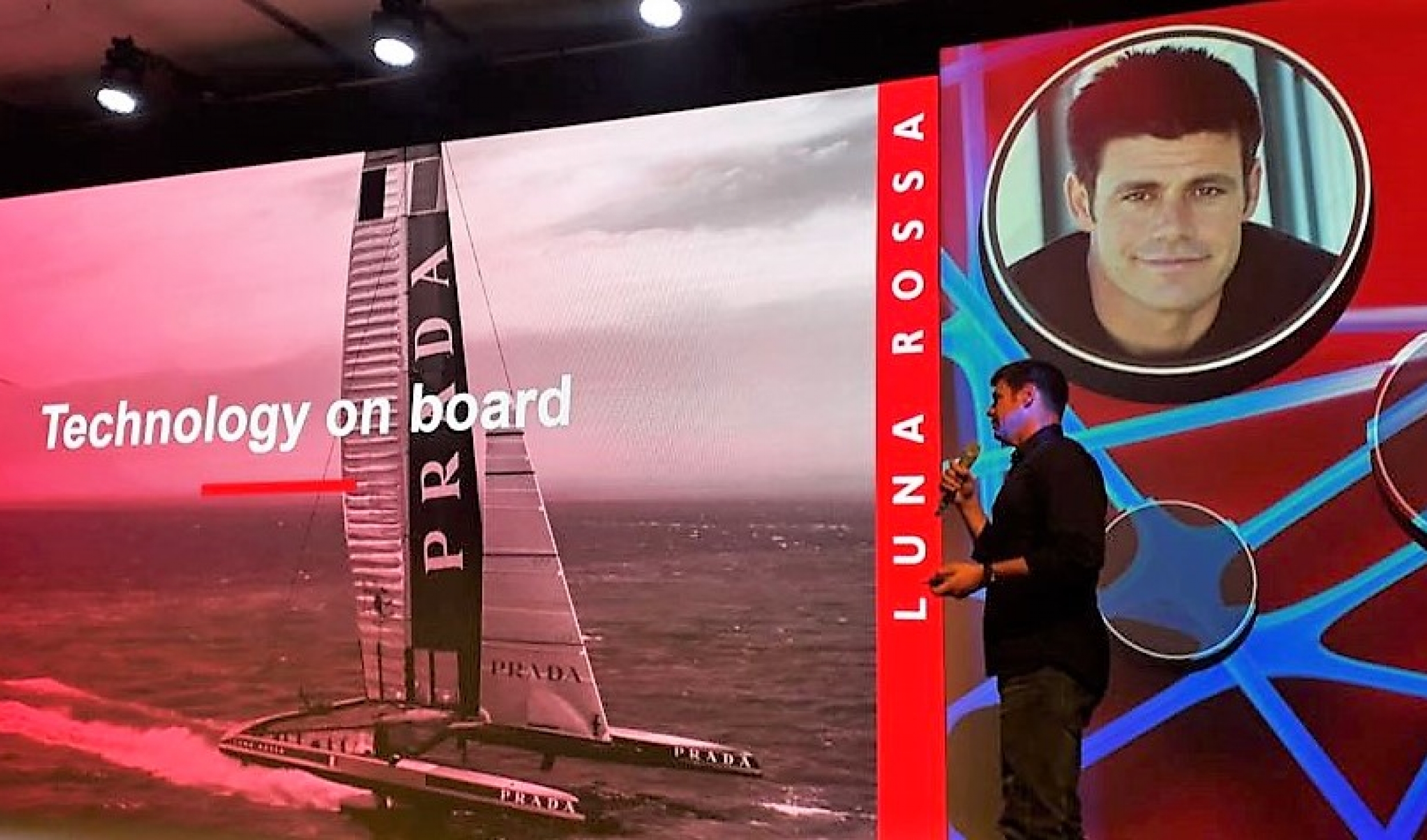 Milan, Italy, May 08, 2018 – Fujitsu was today named as an official supplier for Team Luna Rossa Challenge — Challenger for the 36th America's Cup, providing powerful CELSIUS workstations and displays for the team to run complex simulations on iterations of its racing yacht designs. The highly interactive simulations significantly accelerate the design and testing phase, allowing the team to exhaustively test new ideas before building a prototype.
The 36th America's Cup will be held in Auckland, New Zealand in 2021. In preparation, the AC75 class rules for the race were recently published, defining parameters for eligible yachts. The rules regulate all aspects of competing boats to ensure fair and exciting racing, yet leave plenty of room for innovation. The AC75 design concept features two foils that allow the hull to fully raise out of the water, minimizing drag and enabling extremely high speeds. Each foil can also be operated independently at different angles, to optimize the balance between speed and stability – a design feature that creates both significant opportunities for racing but also real challenges for designers.
Team Luna Rossa turns to Fujitsu for a fully digital design approach.
Historically, teams designed blueprints for yachts, then created reduced scale prototypes that were subjected to tests in specialized wind-tunnels and towing tanks– a process that was not only time-consuming but also expensive. The technology available today means that Team Luna Rossa is digitalizing the design of its next competitive yacht and eliminating the expensive and time-consuming process of using wind tunnels. Instead, Fujitsu CELSIUS Workstations will create a fully digital prototype model which will be subject to exhaustive simulations, from calculating computational fluid dynamics (CFD) to determining fluid structure interaction (FSI).
As a result, Team Luna Rossa can easily compare the effectiveness of different design options, and test various hypotheses involving complex combinations of electronics and mechanical engineering (mechatronics) before building and testing a detailed physical prototype. Fujitsu will also provide ESPRIMO PCs and displays in addition to LIFEBOOK notebooks to enable the Luna Rossa team to collaborate effectively, and will implement a storage network to effectively manage data.
Michael Keegan, Head of Product Business at Fujitsu EMEIA, says: "The America's Cup is the world's oldest international sporting trophy, but Team Luna Rossa will use cutting-edge technology to prepare for it. The incredible concept design for the 36th America's Cup integrates complex mechanical devices and electronics in a way that will almost allow the yacht to fly. Consequently, the simulations require an enormous amount of processing power and high-performance graphics for team Luna Rossa to understand how designs will behave in the water and above it. This is exactly the kind of fully immersive, real-time virtual reality application our CELCIUS series has been designed for."
Gilberto Nobili, Operations Manager and Crew Member of Luna Rossa says: "While the published AC75 class rules mean that the competing yachts will look very similar, under the skin, each will have subtle differences that play as much of a role in winning the race as the crew during the race. Working with foils is particularly complex, as we're constantly balancing drag and lift. The ability to put design ideas through constant simulations and refine the details will really accelerate our ability to test new approaches and ensure that we have the best possible yacht in the water for the America's Cup race in Auckland."
Once the initial simulations are completed, Team Luna Rossa will build and sail a prototype yacht. The next step will be to test every aspect of its performance by collecting live information relating to factors such as wind resistance, in addition to data from on-board devices and the crew to further refine every detail of the design. A combination of real-world data and additional simulator tests will lead to further refinements in design that are incorporated into the yacht that will be built for the actual event.
Fujitsu CELSIUS workstations are designed to deliver high performance graphics and processing capabilities to handle applications such as virtual reality. As the technology sponsor, Fujitsu is supplying Team Luna Rossa with mobile and desktop professional CELSIUS workstations, in addition to LIFEBOOK notebooks, ESPRIMO PCs and Fujitsu displays.